53rd International Submariners Congress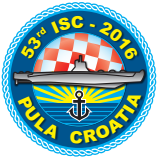 Pula, Croatia.

​24-28 May 2016.
Official Congress site: http://penta-pco.com/congress/content.php?id=65&pageID=398&lang=EN
From
Official Congress site

:

"Pula was a navy and submarine base with 36 fortresses around the Pula-bay more than 100 years, with shipyard 160 years old. Many of the Austro-Hungarian, Italian, and Yugoslav submarines based there, including about 50 German submarines during the First World War.
 
Geographical position of the Pula city is very convinient destination for the most number of submarine veterans. Besides, Croatia is recognized in the world of the tourism as a "small country for a great holiday" with the crystal clear Adriatic Sea, more than thousand islands, numerous national parks and parks of nature, glorious and known historic cities as Dubrovnik, Split, Zadar as well as Pula with three thousand years old history with very well preserved Roman amphitheatre and many other cultural monuments and masterpieces. In front of Pula, the group of beautiful green islands make Brijuni National Park which is listed by UNESCO as one of the World Heritage sites. Pula is well connected by road/sea/air with all major European cities."